If you want to work out regardless of the weather outside but don't want to spend on bulky exercise machines, you might want to consider getting an indoor bike trainer. This is a good choice if you already own a bike.
There are a lot of options when it comes to indoor bike trainers. You can get a trainer for under a hundred dollars or you can splurge and spend more than a thousand dollars on a smart trainer. But which indoor cycling trainer is best for a beginner? What is an indoor trainer exactly and how is it different from stationary bikes or spin bikes?
What is an indoor bike trainer?
An indoor bike trainer sometimes called a turbo trainer is a piece of equipment that allows you to ride your bike indoors.
Unlike an exercise bike or stationary bike which is a piece of stand-alone equipment complete with handlebars, saddle, pedals, and wheels, an indoor bike works in conjunction with a bike.
An indoor bike trainer consists of a frame to stabilize your bike, a clamp that secures your bike into place, and a mechanism that provides resistance. Other components will vary depending on the type of indoor bike trainer. More on this later.
What are the different types of bike trainers?
Wheel-on Trainers
As the name suggests, wheel-on trainers let you keep the rear wheel of your bike when you attach it to your trainer.
A wheel-on trainer has a roller that is connected to a resistance unit. When you set up your bike on the trainer, its rear wheel will press against the roller.
Pedaling your bike will cause the roller to turn and engage the resistance unit thereby creating resistance as you ride your bike.
Wheel-on trainers don't take up a lot of space. Some models can be folded for easy storage when not in use.
Wheel-off or Direct Drive Trainers
Wheel-off or direct drive trainers require you to remove the rear wheel of your bike before attaching it directly to the trainers' cassette.
One advantage of a direct drive trainer is that you won't wear out your rear tire. It also provides a more realistic feel when riding compared to a wheel-on trainer.
They tend to be slightly bulkier than a wheel-on trainer but they are still compact compared to an exercise bike or other exercise equipment.
Magnetic trainers
Magnetic trainers are a type of wheel-on trainer that uses opposing magnets to create resistance.
Fluid Trainers
Fluid Trainers create resistance by turning an impeller inside a container of fluid. Fluid trainers are typically wheel-on trainers. But direct drive fluid trainers also exist but are rare.
Non-smart Trainers
These are trainers that don't have "smart" functionality. That means they are not equipped with sensors and wireless devices. Most entry-level wheel-on fluid or magnetic trainers can be considered non-smart trainers.
Smart Trainers
Smart Trainers are equipped with speed sensors and wireless capability either via Bluetooth or ANT+ that enable them to communicate with a training or fitness app on your wearables, mobile phones, or computers. Most direct-drive trainers are smart trainers. But wheel-on trainers with smart capability are also available.
Some smart trainers are interactive. In addition to having Bluetooth and/or ANT+, they have more advanced features like FE-C (Fitness Equipment Control)  which allows an app like Zwift to automatically control the trainer's resistance.
Most smart trainers need to be plugged into a power source.
How to Choose an Indoor Bike Trainer
With tons of options for indoor bike trainers, how do you know which one you should choose? Here are some things for consideration.
Price
How much are you willing to spend on indoor cycling? Remember that aside from a trainer, you might also need to get some accessories like fans, mat, and others to complete your indoor bike set-up.
Non-smart wheel-on magnetic trainers are very affordable. You can find indoor magnetic trainers on Amazon for very cheap–around $40. But the price could go up to over a hundred dollars depending on the brand and model.
You might want to check out the reviews before you commit. It might be better to spend a bit more for a better quality basic trainer.
Wheel-on fluid trainers are generally slightly more expensive than magnetic trainers. Direct drive smart trainers could go up to more than a thousand dollars.
Bike Compatibility
Before you go out and buy your trainer, check if they are compatible with your bike. Road bikes and mountain bikes come in varying wheel sizes and may use either quick-release skewers or thru-axles.
They are usually compatible with most trainers but check the trainer's specs nonetheless.
However, if you have a BMX bike, your options are more limited. Read our previous post on BMX-compatible indoor trainers here.
Features
As explained earlier, indoor bike trainers come in different types and carry different features. 
Remember that the more features a trainer have (smart interactive trainer for example), the more expensive it can get.
Think about how often you can do indoor cycling, and how serious you are about it before deciding. 
If you plan to be a casual rider, then there might be no need for an indoor trainer with all the bells and whistles.
Should you develop a fervent love for indoor cycling as time goes by, you can always upgrade to better equipment later. 
For most beginners, basic indoor trainers can meet their needs. But if you're already an avid cyclist but want to try indoor cycling to keep you busy during the off-season, you are better off with higher-end smart trainers. 
Noise Levels
Another consideration in choosing an indoor bike trainer is the noise levels.
Magnetic trainers are generally noisier than other types of trainers (except for wind trainers which are going out of fashion anyway).
Direct drive trainers are the least noisy because the rear wheel is removed therefore there is less friction compared to a wheel-on trainer where the wheel is in contact with the roller.
If you are living in an apartment or shared dwelling, you should consider the noise level of your trainer. Check the reviews and decibel ratings of the trainer that you are planning to buy.
You can also take extra measures to dampen the noise and vibration of your indoor bike trainer
The Best Indoor Cycling Trainers for Beginners
Here are some of my recommended indoor cycling trainers for beginners.
Sportneer Magnetic Bike Trainer
Sportneer Magnetic Bike Trainer is a relatively affordable option for beginners at $119 on Amazon. This is the newer version of Sportneer's magnetic trainer with an upgraded resistance system.  
Features:
Six resistance levels–sufficient resistance for most riders
With a bar-mounted remote control for the resistance levels
Relatively quiet operation (compared to other magnetic and even some fluid trainers)*
Maximum power – 660 watts
Wide range of compatibility for bikes (26-28″ or 700c wheel, and with rear-wheel axel between 4″- 7.55″)
5 Adjustable rubber feet
Front-wheel riser and steel quick release skewer are included in the box
Foldable compact design
*The noise is mainly related to the materials and tread of bike tires. The manufacturer suggests using road bikes because the noise will be louder if a Mountain Bike is used. You can still use MTB if you use a trainer-specific tire for the wheel so that it will not be too loud.  
Unisky Fluid Bike Trainer
If you need a quieter option for indoor training, you can check out Unisky Fluid Bike Trainer. This trainer is solidly built at an affordable price. 
Features
Foldable design
Compatible with road and mountain bikes
Compatible with 26-29 inch tires/700c wheel
Garmin Tacx Flow Smart Trainer
Garmin Tacx Flow Smart Trainer is a decent entry-level wheel-on smart trainer. It is best for those who want to measure their riding performance. It is "smart" in the sense that it can transmit data from its built-in sensors but it does not have interactive capabilities. 
Features
With built-in sensors for cadence, power, and speed
Works with Zwift
Elite Tuo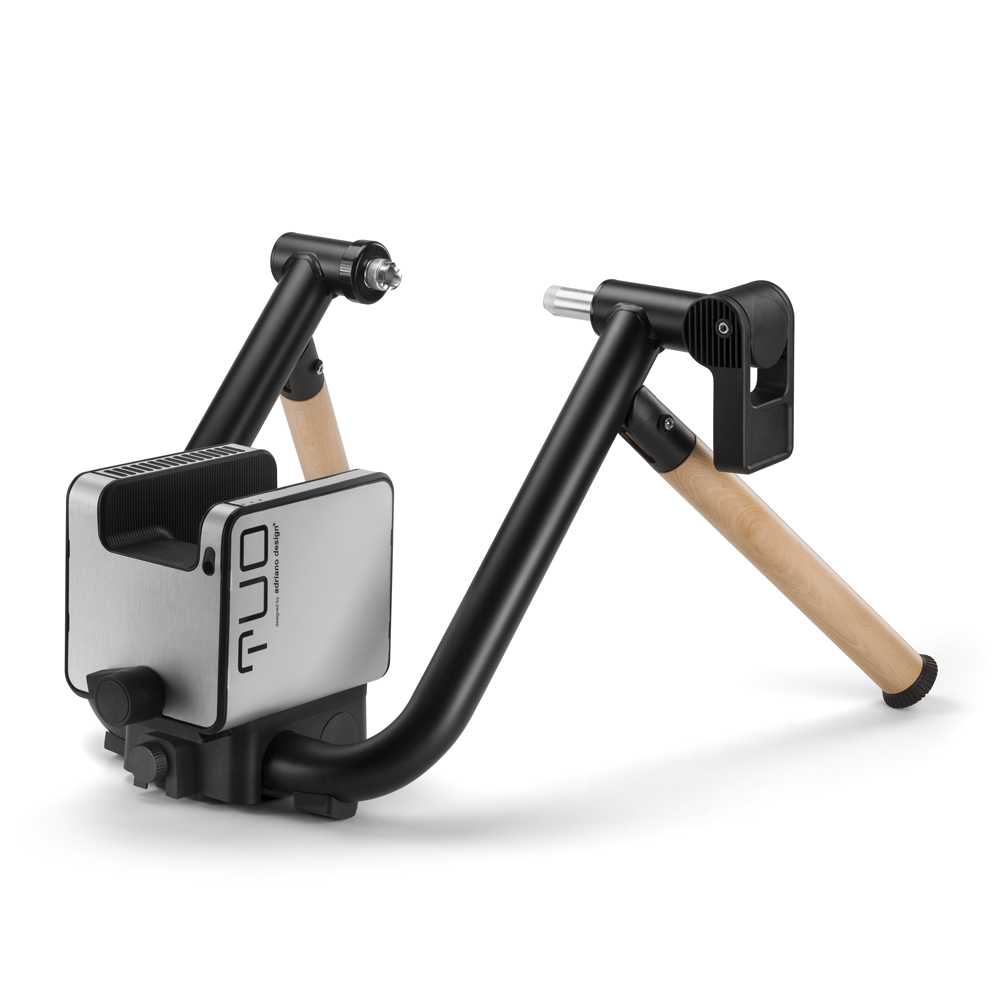 Elite Tuo is an interactive wheel-on indoor trainer that has a compact and elegant design. It is also packed with the following features.
With automatic resistance adjustment
With foldable frame legs
Roller made with Elastogel material that reduces friction noise and tire wear
Includes many adapters for bikes 
Works with Zwift, TrainerRoad, SufferFest, and many more training apps
Compatible with the Elite Rizer (gradient simulator)
Elite Direto-XR Interactive Direct Drive Trainer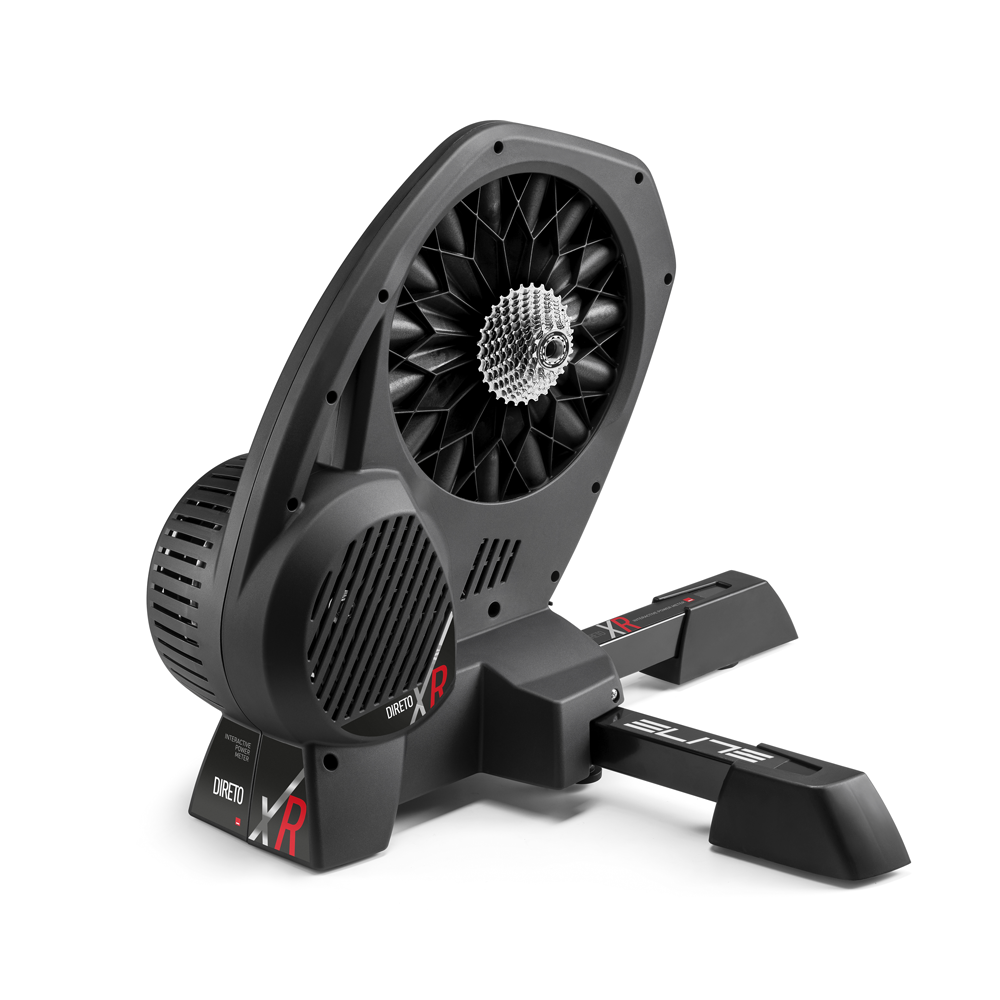 If you want an interactive direct drive trainer but don't want to spend more than a thousand bucks for it, you can check out Elite Direto-XR.
Features:
Comes with an 11SPD cassette
Maximum power –1100 Watt (20km/h) – 2300 Watt (40km/h)
Compatible with many training apps including Zwift, TrainerRoad, SufferFest, and more
Compatible with most road bikes, mountain bikes, and city bikes
Compatible with Rizer
Summing Up
When getting a trainer, you have to consider the price that you are willing to spend, the features that you want for your trainer, compatibility with your bike, and noise levels among others. 
For most beginners, a "dumb" wheel-on trainer is enough to meet their training needs. But for those who intend to get serious about indoor cycling, might want to consider getting a smart trainer to be able to maximize its features.