What are Turbo Trainer Apps and why should try one? Read about Turbo Trainer App for iPhone and find out which one is the best for you.
The Best Turbo Trainer Apps for iPhone
Turbo training is a great way to keep fit. However, pedaling alone in your room while staring at a wall can get monotonous after a while. Also, if you pedal aimlessly and don't follow a training plan, you might not get the results you want. Both situations can kill your motivation.
To get the most out of your indoor cycling sessions, try using turbo trainer apps. Also called indoor cycling apps, these are apps that you can download and install on your phone to guide you during your indoor cycling sessions. They provide challenge, structure, and variety to help you stay motivated and accomplish your fitness goals.
Most of these apps require a paid subscription to use.
A variety of turbo training apps for iPhones exist but most fall under two camps. One is a purely training app that is focused on getting you faster and helping you become a better cyclist. The other camp also helps in your training but has a simulation and/or gaming component to help keep you entertained and motivated during your turbo sessions.
We've rounded up the best turbo training apps for iPhones to help you make a decision.
TrainerRoad
TrainerRoad is one of the most popular indoor cycling apps available today. If you don't care about creating an avatar and watching a virtual bike route on the screen, and want to focus on being really good at cycling, then TrainerRoad may be a good fit for you.
TrainerRoad has the following features.
Adaptive Training
Adaptive Training is the latest update for TrainerRoad. It uses machine learning to help you become a better cyclist. Every time you complete a workout in TrainerRoad, adaptive training will analyze your performance and automatically adjusts your progression levels. It will then suggest adaptations to your training plan if needed. If you are not currently on a training plan, adaptive training recommends individual workouts for you (see Train Now).
Plan Builder
Plan Builder helps you create a training plan based on your current level of fitness, and the racing event you're preparing for if any. It comes with an integrated calendar to help you manage your workout schedules.
Train Now
If you're not preparing for a particular racing event or are not yet currently on a training plan, you can also use the Train Now feature of the app. It uses machine learning (powered by adaptive training) to analyze your recent performance and workout history and then recommends a set of three workouts.
Power Match
When using a smart trainer, you can use TrainerRoad's power match feature that allows you to use your power meters to control the resistance on your smart trainer.
Subscription: $19.95/mo
System Requirements: iOS 9.0 or greater
Xert
The Exert App is less popular than TrainerRoad but also has good features.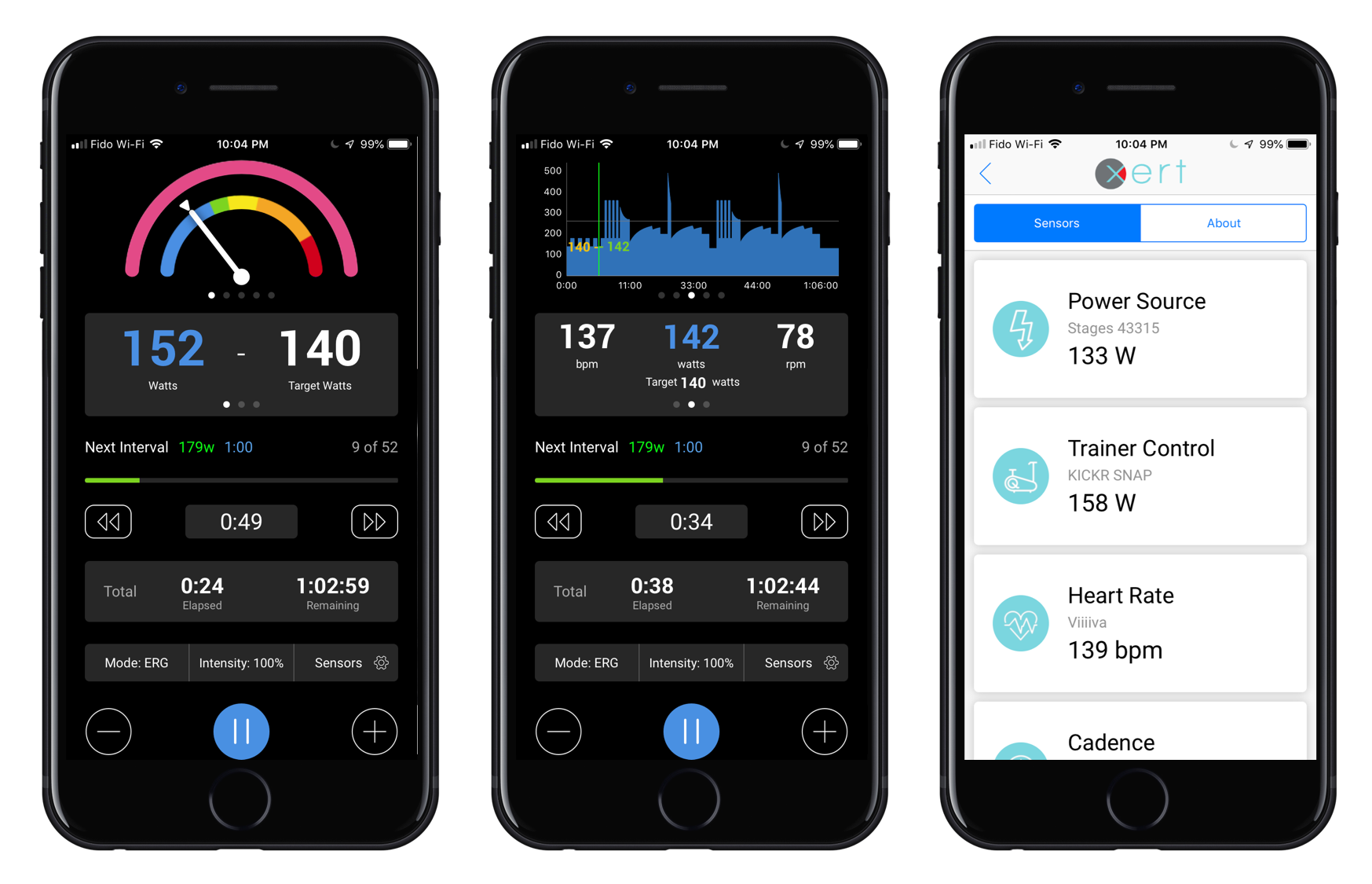 Adaptive plans
Xert adjusts your training automatically based on the changes in your fitness and your goals, and how well you are performing in your workouts.
For Indoors and Outdoors
If you have a power meter on your bike, you can use Xert to include your outdoor cycling activities in your training plan.
Extensive Work Out Library
Xert has an extensive library of detailed workouts than can be used indoors with a smart trainer, or outdoors. Every workout automatically adapts to your Fitness Signature to ensure it's just right for you.
No FTP Test Required
You don't have to do the dreaded FTP test. Xert analyzes every activity and looks for a "breakthrough" performance and tells you when you're improving and by how much, automatically.
Fitness Signature
Other turbo training apps only focus on your threshold power. Xert creates a multi-parameter view of your fitness taking into account your peak power, threshold power, and high-intensity energy to know your capabilities and determine where you need to improve.
If you already have at least three months of power data recorded in Strava or Garmin Connect, you can sync or import them and then Xert can create your Fitness Signature.
Subscription: $9.99/mo
System Requirements: iOS 9.3 or later
Trainer Day
Trainer Day is one of the most affordable options when it comes to turbo cycling apps.
What's great about Training Day is that it is flexible.
No problem if you have an erratic schedule and can't work around a calendar. Just train based on your availability. You will automatically progress to your next workout after you complete the last one. Want to stick with a calendar? That's okay too. You can use Training Peaks, Garmin, or Intervals.icu as your calendar application.
You have over 20,000 workouts to choose from. If you want a training plan, you have lots of options too. You can use plans from Trainer Day's community plans(free for everyone), from "Coach Jack" (requires a subscription), from Training Peaks, or create your own using Trainer Day's plan builder.
Trainer Day also allows you to switch between ERG, free-ride, and HR mode.
Subscription: $3.99 /mo and a limited free version
System Requirements: IOS 11 or later
Kinetic Fit
Kinetic Fit app is not a full-blown gamified and simulation turbo training app, but it does have video integration so you can watch a video corresponding to your workout if you like.
Kinetic Fit features easy-to-follow workouts. You will be guided with voice-overs, event cues, and pop-ups so you know when your next interval is coming.
Kinetic fit offers four types of training plans according to discipline–fitness, road, offroad, and triathlon. Fitness training plans are for beginners and all levels of riders. Road, offroad, and triathlon training plans are for those who are preparing for specific events or races.
You can view the post-ride analysis in your career history to compare day-to-day and season-to-season.
Kinetic Fit works on a freemium model. The core or free subscription has limited features A Kinetic Fit app smart subscription includes 28 training plans and over 200 guided workouts.
You can export your data from Kinetic Fit to third-party apps such as Strava and Training Peaks. You also have the option to share your achievements on social media.
Subscription: Core – Free / Smart – $ 9.99/mo.
System Requirements: IOS 9.3 or later
Zwift
Zwift is one of the most popular immersive turbo training apps. It allows users to navigate virtual worlds (11 as of this writing) while riding on their trainers.
Over 1000 structured workouts are available in Zwift which you can do alone or in groups. Zwift also allows you to create custom workouts. You also have the option for a free ride wherein you pick a route and just ride on your own pace.
Aside from the virtual routes, another main feature of Zwift is the social component. Zwift lets you join cycling events with other Zwift users in real time.
One type of event you can join is a group ride. Group rides are typically unstructured rides but it depends on the Ride Leader whether he wants it to be a social ride or a competitive one.
Group workout is another type of event you can join.  Group workouts are a series of structured rides that use Zwift's workout mode.
The competitive ones can join races and compete against other Zwift users.
If you don't want to join public events mentioned above, you can create or join meetups with your friends who are on Zwift.
Subscription: S 14.99 /mo
System Requirements: IOS 12.0 or later
Rouvy
Rouvy is an immersive indoor training app that takes it to the next level. While Zwift features virtual worlds, Rouvy gives you augmented reality using real-life video of routes. It has over 300 AR Routes from 32 countries.
One way Rouvy tries to keep you motivated is the career feature. By consistently cycling, you can build your career. There are 80 career levels from complete beginner to the exceptional Legend Club. Your outdoor rides can count towards your career too. Just integrate Strava or Garmin to import your ride to Rouvy.
With Rouvy, you can also earn coins every time you ride. These coins can be used to buy gears for your avatar.
Like Zwift, you can also join real-time events such as races, group rides, or challenges in Rouvy. Or you can explore the most iconic cycling routes while doing solo structured workouts.
If you use a smart trainer with FE-C (Fitness Equipment Control), Rouvy will adjust the resistance of your trainer based on the course you are seeing on your screen so you'll have a realistic feel to your indoor ride.
Subscription: $15/mo or $12/mo (annual one time payment of $144)
System Requirements: IOS 11 or later
FulGaz
FulGaz is another turbo training app that uses real-world videos rather than simulated ones.
If you like challenging yourself, then you might want to look into FulGaz as it is the exclusive home for challenging routes such as the Haute Route and Iron Man.
Looking for a training program to help you get better at cycling? FulGaz features the following training programs:
12-Week FTP Program – focused on the fundamentals of riding
12-Week Climbing Program – helps you become a better climber
4-Week Climbing Booster – aims to improve your climbing strength, technique and pacing
You can also connect Training Peaks and Today's Plan for your training program. You can also add your own workout in FulGaz.
FulGaz also allows you to set up group rides with your friends.
You can stream the rides on your device but FulGaz recommends downloading the rides for best experience.
Subscription: $12.99/mo or $9.08/mo billed annually
System Requirements: IOS 11 or later
What are the other Requirements to Use Turbo Trainer App for iPhone?
Turbo Trainer
You need a trainer, but what kind of trainer? A smart trainer with FE-C (Fitness Equipment Control) would be best not only because it is capable of sending data to the app installed on your iPhone but also because the turbo training app will be able to control the trainer's resistance based on the course. That means you will feel it in your legs when you are simulating a climb during your ride.
A smart trainer without FE-C will work too. Only, the app cannot control the trainer but it will receive power data from it.
It is also possible to use a non-smart trainer with indoor cycling apps. But you need to buy sensors or a power meter for your bike. Learn more about this in the next sections.
Like in the non-FE-C smart trainer, it won't be possible for the turbo training app to control the resistance in a classic trainer.
Also, check if the trainer you have is supported by the app of your choice. If it's not listed, then it means it hasn't been calibrated by the app and therefore may not give an accurate reading.
Sensors/Power Meter
You only need to have either speed and/or cadence sensors or a power meter if you are using a non-smart trainer.
Speed sensors determine speed and distance based on the bike's wheel circumference. Cadence sensors measure rotation per minute of the crank arm. You can also buy a speed and cadence sensor combo. Turbo training apps estimate your power based on the readings from your speed and cadence sensors.
A power meter measures the power output of the cyclist. The power meter is more accurate than the speed and cadence sensor combo. However, it is a lot more expensive. If you are willing to spend that amount of money for a power meter, maybe just add a little more to get a smart trainer instead. However, if you are a pro cyclist or a really dedicated cycling enthusiast, you might already have a power meter on your bike. In that case, you're good to go.
ANT+ to BLE Bridge
You only need this if your smart trainer or sensors can only broadcast ANT+. Most trainers are both Bluetooth and ANT+ capable, but some can broadcast only ANT+.
iPhone can't receive ANT+ signals so you need a device to convert ANT+ to BLE (Bluetooth Low Energy) if your trainer only works on ANT+.
There's an adapter that you can stick into your iPhone's charging port, but unfortunately, this doesn't work for the current iPhone models. You're gonna need another lightning to 30-pin adapter. But this is such a hassle and can get quite expensive too.
Your best choice is to get CABLE. That's an acronym for Connect ANT+ BLE. This device needs no plugging into any kind of port so it's very convenient. You also have to download and install the CABLE util app on your iPhone to use this device.
Heart Rate Monitor – optional
Most turbo cycling apps let you pair a heart rate monitor. It is not totally necessary but it is good to have. There's also a heart rate monitor and ANT+ bridge in one, so if you want a heart monitor and also need an ANT+ bridge, you might as well get this one.
Large TV Screen – optional
If you decide to use a gamified turbo training app like Zwift or Rouvy, it may make more sense to mirror what you see on your iPhone to a bigger screen so that you can better appreciate the graphics or 4k video on the app.
If you only have a regular TV with HDMI, you can buy an digital AV adapter for iPhone, plug it in the lightning port, plug in an HDMI cable on the adapter then connect the cable to your TV.
If you have an Apple TV, you can use airplay to mirror your iPhone to the TV. But this is the old way. Nowadays, you can just install the app on Apple TV itself. But then you won't need your iPhone to run the turbo training apps. Well except when you want to use Zwift Companion App for IOS (not the full Zwift App) as a game controller.
The Best Turbo Trainer Apps for iPhone – Final Thoughts
Turbo Trainer Apps can help you keep motivated during your turbo cycling sessions and help you achieve your fitness goals. There are a lot of options when it comes to turbo training apps for iPhone but basically they are divided into two camps–purely training apps, and gamified training app.
What you should get all depends on your preference. If you feel like you need to be entertained and connect with other people while doing indoor cycling sessions, then gamified turbo cycling apps like Zwift, Rouvy, and FulGaz might work best for you. Remember though, that to get the best experience out of these apps, it is recommended to mirror them on a large screen.
If you just want to get better in cycling and don't mind just seeing graphs and stats to show how much you've progressed, then apps like the TrainerRoad, Xert, and TrainerDay might work best for you.